Thanks to everyone who attended and participated in last week's GMM. We are thrilled with the turnout of 203 members and hope to keep the energy and enthusiasm going all year.
Due to some sensitive information in the newsletter, we are posting an abbreviated version to the website.
Please join us for two town halls to discuss questions that came out of our October GMM. Email BargainingChair@geo3550.org for more details or check the Promotions tab in your email for the full newsletter!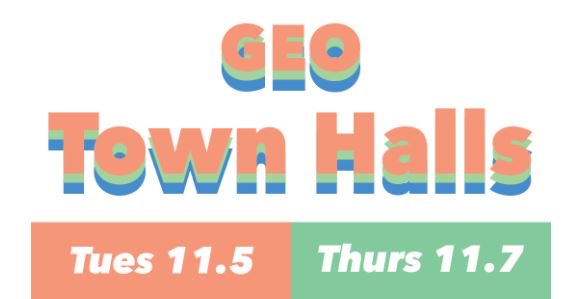 All town halls will meet at the GEO office at 339 E. Liberty St., Suite 340 (above Isalita/Ragstock).
Thanks for your patience and participation as we continue to work through many important decisions together this year!
Emily Gauld
GEO President
Ph.D. Candidate
Germanic Languages and Literature
---
The U-M Board of Regents recently approved a $500/term fee for international students starting this semester. This new fee will reduce diversity on campus. International PhD students are now ~$1,500 more expensive to academic departments than their domestic colleagues. Thus, departments may decide to recruit fewer international students in the future.International students represent 14.9% of the total student body at U-M. The new international student fee can reduce that fraction.
---
Solidarity Action: NLRB rule denying worker-status to graduate students at private universities

The National Labor Relations Board is trying to block teaching and research assistants at private universities from unionizing by claiming they're not employees. We know better. UM works because we do… and we know that's just as true of grad students at private universities. Don't let the NLRB weaken graduate worker power — add your voice to oppose the NLRB's proposed new regulation and declare #WeAreWorkers.
Read more about the proposed rule.
---
Contribute Solidarity Dues!

Solidarity Dues are a financial investment in your future as a graduate student as well as in the pay and benefits of all current and future graduate students at UofM. The university has historically matched GSI and GSRA pay, so raises that are achieved for GSIs and GSSAs by GEO are also given to GSRAs. A strong graduate student labor union, therefore, results in greater raises for both GSIs and GSRAs.
Pay raises are not the only way in which GEO achievements impact GSRAs; major advancements in benefits secured in GEO contracts are also passed along to GSRAs. This is why GSRAs are today able to enjoy zero-premium healthcare as well as free and low-cost dental insurance options. GEO has also won the ability for international GSRAs to get their SEVIS fee reimbursed, provided that they have worked as a GSI for at least one semester.
It is important to understand that UofM has never voluntarily provided graduate students with pay raises, healthcare, or any other benefit. If the graduate student body chooses not to support their labor union financially, these benefits will never improve and may ultimately disappear. We hope that you will strongly consider both your own future and that of your fellow graduate students and choose to contribute to your labor union.
Sign up to contribute Solidarity Dues!
(And stop by the GEO Office to pick up a Solidarity Dues sticker after you sign up)
Newsletter 10/8: Town Halls on Platform Items & Other Announcements